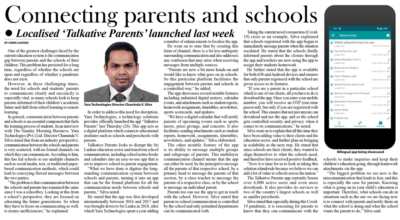 Connecting Parents & Schools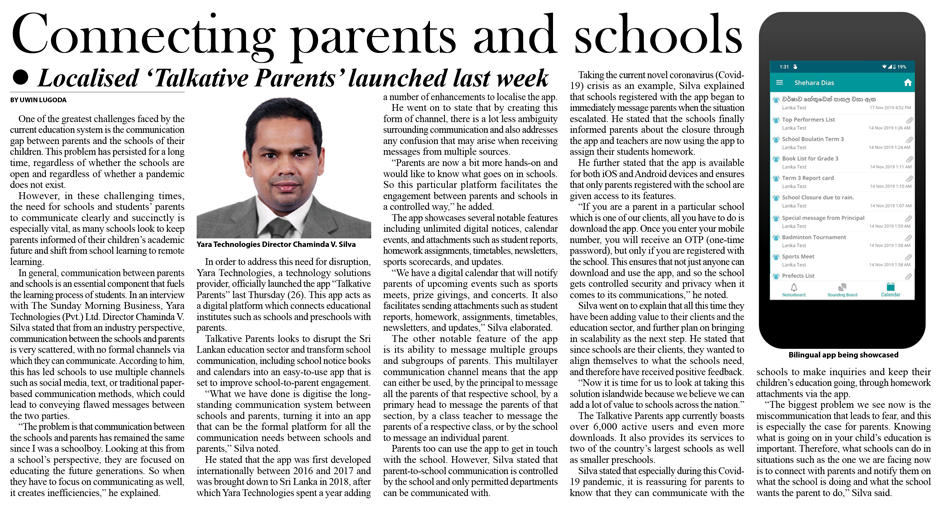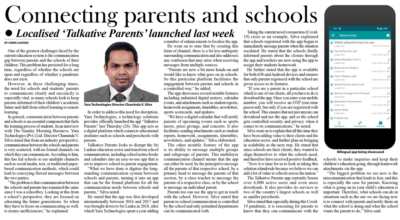 Published by Uwin Lugoda, "The Morning", on 29/03/2020:
One of the greatest challenges faced by the current education system is the communication gap between parents and the schools of their children. This problem has persisted for a long time, regardless of whether the schools are open and regardless of whether a pandemic does not exist.
However, in these challenging times, the need for schools and students' parents to communicate clearly and succinctly is especially vital, as many schools look to keep parents informed of their children's academic future and shift from school learning to remote learning.
In general, communication between parents and schools is an essential component that fuels the learning process of students. In an interview with The Sunday Morning Business, Yara Technologies (Pvt.) Ltd. Director Chaminda V. Silva stated that from an industry perspective, communication between the schools and parents is very scattered, with no formal channels via which they can communicate. According to him, this has led schools to use multiple channels such as social media, text, or traditional paper-based communication methods, which could lead to conveying flawed messages between the two parties.
"The problem is that communication between the schools and parents has remained the same since I was a schoolboy. Looking at this from a school's perspective, they are focused on educating the future generations. So when they have to focus on communicating as well, it creates inefficiencies," he explained.
In order to address this need for disruption, Yara Technologies, a technology solutions provider, officially launched the app "Talkative Parents" last Thursday (26). This app acts as a digital platform which connects educational institutes such as schools and preschools with parents.
Talkative Parents looks to disrupt the Sri Lankan education sector and transform school communication, including school notice books and calendars into an easy-to-use app that is set to improve school-to-parent engagement.
"What we have done is digitise the long-standing communication system between schools and parents, turning it into an app that can be the formal platform for all the communication needs between schools and parents," Silva noted.
He stated that the app was first developed internationally between 2016 and 2017 and was brought down to Sri Lanka in 2018, after which Yara Technologies spent a year adding a number of enhancements to localise the app.
He went on to state that by creating this form of channel, there is a lot less ambiguity surrounding communication and also addresses any confusion that may arise when receiving messages from multiple sources.
"Parents are now a bit more hands-on and would like to know what goes on in schools. So this particular platform facilitates the engagement between parents and schools in a controlled way," he added.
The app showcases several notable features including unlimited digital notices, calendar events, and attachments such as student reports, homework assignments, timetables, newsletters, sports scorecards, and updates.
"We have a digital calendar that will notify parents of upcoming events such as sports meets, prize givings, and concerts. It also facilitates sending attachments such as student reports, homework, assignments, timetables, newsletters, and updates," Silva elaborated.
The other notable feature of the app is its ability to message multiple groups and subgroups of parents. This multilayer communication channel means that the app can either be used, by the principal to message all the parents of that respective school, by a primary head to message the parents of that section, by a class teacher to message the parents of a respective class, or by the school to message an individual parent.
Parents too can use the app to get in touch with the school. However, Silva stated that parent-to-school communication is controlled by the school and only permitted departments can be communicated with.
Taking the current novel coronavirus (Covid-19) crisis as an example, Silva explained that schools registered with the app began to immediately message parents when the situation escalated. He stated that the schools finally informed parents about the closure through the app and teachers are now using the app to assign their students homework.
He further stated that the app is available for both iOS and Android devices and ensures that only parents registered with the school are given access to its features.
"If you are a parent in a particular school which is one of our clients, all you have to do is download the app. Once you enter your mobile number, you will receive an OTP (one-time password), but only if you are registered with the school. This ensures that not just anyone can download and use the app, and so the school gets controlled security and privacy when it comes to its communications," he noted.
Silva went on to explain that all this time they have been adding value to their clients and the education sector, and further plan on bringing in scalability as the next step. He stated that since schools are their clients, they wanted to align themselves to what the schools need, and therefore have received positive feedback.
"Now it is time for us to look at taking this solution islandwide because we believe we can add a lot of value to schools across the nation."
The Talkative Parents app currently boasts over 6,000 active users and even more downloads. It also provides its services to two of the country's largest schools as well as smaller preschools.
Silva stated that especially during this Covid-19 pandemic, it is reassuring for parents to know that they can communicate with the schools to make inquiries and keep their children's education going, through homework attachments via the app.
"The biggest problem we see now is the miscommunication that leads to fear, and this is especially the case for parents. Knowing what is going on in your child's education is important. Therefore, what schools can do in situations such as the one we are facing now is to connect with parents and notify them on what the school is doing and what the school wants the parent to do," Silva said.
• Localised 'Talkative Parents' launched last week
Source : http://epaper.themorning.lk/Home/ShareArticle?OrgId=dd02162c