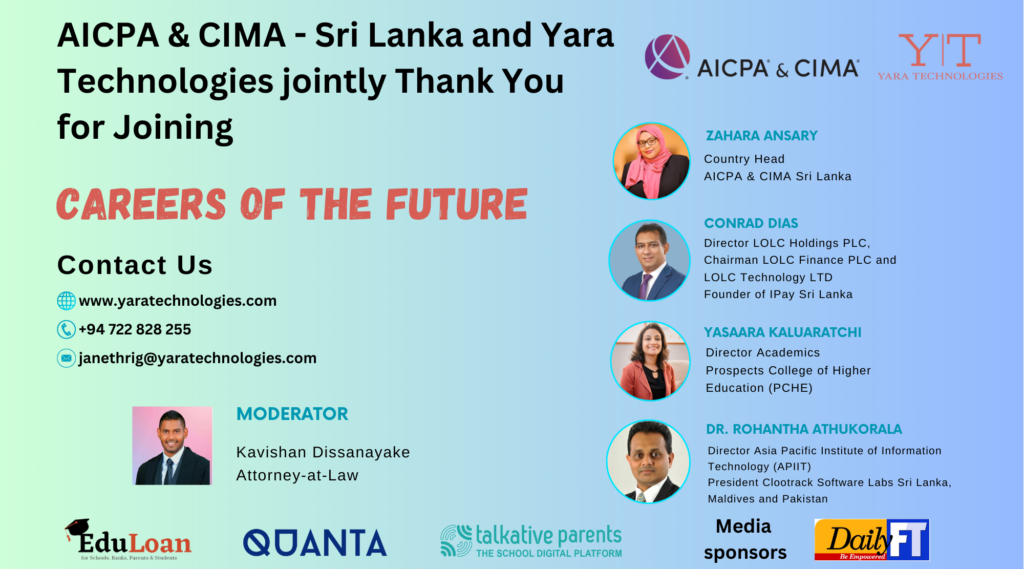 Webinar on "Careers of the Future": niche career opportunities for students in Sri Lanka
Joint program on Wednesday by AICPA and CIMA and Yara Technologies
AICPA and CIMA and Yara Technologies will jointly organise a free webinar on 5 April at 10 a.m. via Zoom for the benefit of O-Level and A-Level students in Sri Lanka pursuing studies in both national and international curriculums.
The distinguished panel of speakers would present on the niche career opportunities that have evolved during recent years, carrying vast potential for students.
"In today's world of business, we must carve out an identity in society about our DNA – it helps your work in your current office, get the attention of future employers and work together to help the community," said APIIT Director Dr. Rohantha Athukorala.
"Under the current context of the Sri Lankan economy, many parents are confused with their children's future in relation to higher studies. Besides facing financial difficulties when considering sending their children overseas for higher studies, they are not fully aware of the many opportunities in Sri Lanka that's readily available to help them create an exceptional career. We will provide information during this webinar," stated AICPA and CIMA, Sri Lanka and Maldives Country Manager Zahara Ansary, FCMA (UK), CGMA.